El pasado domingo 18 de Septiembre finalmente fue la esperada ceremonia de los Emmys 2016, una de las más reconocidas premiaciones que destaca la "excelencia" en la televisión.
La entrega de los Emmys de este año fue presentada por el famoso comediante Jimmy Kimmel. Sin embargo, se trató de una ceremonia bastante regular. Con unas cuantas bromas centradas en O.J. Simpson (a causa de American Crime Story), Maggie Smith (que nunca asiste a las premiaciones) y por supuesto, no podía faltar… en Trump. Pero la verdad es que de los sketches más divertidos fue cuando Matt Damon salió en escena a robarse un poco el protagonismo. Por otro lado, desde la famosa repartición de pizzas cuando Ellen DeGeneres presentó los Oscars, se puede decir que desde entonces unos cuantos presentadores han seguido sus pasos; y esta vez se ofrecieron sándwiches de mantequilla de maní y jalea, repartidos por los chicos de Stranger Things en bicicletas.
Cabe destacar que cuando se anunciaron los nominados, realmente la mayoría fueron los que se esperaban, sin embargo, los ganadores estuvieron bastante diversos, dejándole más de una sorpresa a estos Emmys 2016.
El premio al mejor actor secundario en una serie dramática fue una de las sorpresas más grandes. Entre nombres como Peter Dinklage (quien ya lo ha ganado en otras oportunidades), Kit Harington (Jon Snow), Michael Kelly (Stamper en House of Cards) o Jonathan Banks (de Better Call Saul) el galardón terminó siendo para Ben Mendelsohn, de la serie de Netflix, Bloodine. Una verdadera sorpresa. Mientras que Rami Malek, de Mr. Robot rebasó a Kevin Spacey por House of Cards.
En cuanto a las féminas, muchos nos afincábamos más por Robin Wright de House of Cards o Viola Davis por How to Get Away with Murder, pero finalmente Tatiana Maslany se hace con su merecido premio por interpretar a más de 7 personas en una sola serie (Orphan Black) entre ellos hasta personajes masculinos. Y en el ámbito de las miniseries, Sarah Paulson se lleva también un galardón por su excelente interpretación como Marcia Clark.
Siguiendo con el drama, las dos series que lideraron las nominaciones, también se llevaron la mayoría de premios. La joya de HBO, Game of Thrones y el  nuevo éxito de FX, American Crime Story: The People v. O.J.  Simpson fueron las más sonadas de la noche. Llevándose mejor serie y miniserie del año. American Crime Story bajó del trono a la 2da temporada de Fargo, haciendo que se fuera con las manos vacías. Igualmente The Americans, que por fin es considerada, también se fue en blanco de estos Emmys.
En cuanto a comedia, quien también se llevó su reconocimiento fue Kate McKinnon por su cómica interpretación de la candidata demócrata a la presidencia de los Estados Unidos, Hillary Clinton, quien inmediatamente la felicitó vía Twitter.
Mientras el premio a la mejor serie fue para Veep, la que también le embolsilló nuevamente el Emmy a la mejor actriz a Julia Louis-Dreyfus por dicha serie de HBO, recibiéndolo con un vivaz y emotivo discurso.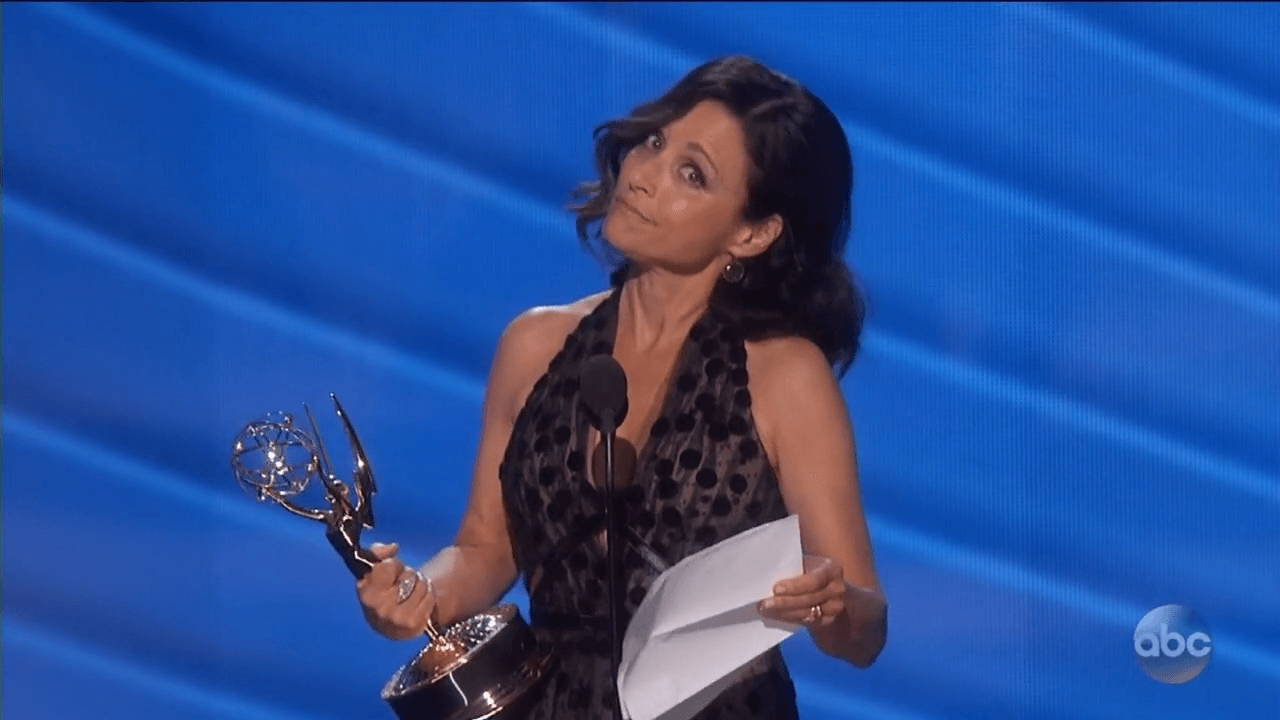 LISTA DE GANADORES – EMMYS 2016
MEJOR SERIE DRAMÁTICA
The Americans
Better Call Saul
Downton Abbey
Game of Thrones
Homeland
House of Cards
Mr Robot
MEJOR SERIE DE COMEDIA
Black-ish
Master of None
Modern Family
Silicon Valley
Transparent
The Unbreakable Kimmy Schmidt
Veep
MEJOR ACTOR – DRAMA
Kyle Chandler, Bloodline
Matthew Rhys, The Americans
Kevin Spacey, House of Cards
Rami Malek, Mr Robot
Bob Odenkirk, Better Call Saul
Liev Schrieber, Ray Donovan
MEJOR ACTRIZ – DRAMA
Claire Danes, Homeland
Viola Davis, How to Get Away With Murder
Taraji P Henson, Empire
Tatiana Maslany, Orphan Black
Keri Russell, The Americans
Robin Wright, House of Cards
MEJOR ACTOR – COMEDIA
Anthony Anderson, Black-ish
Aziz Ansari, Master of None
Will Forte, The Last Man On Earth
William H Macy, Shameless
Thomas Middleditch, Silicon Valley
Jeffrey Tambor, Transparent
MEJOR ACTRIZ – COMEDIA
Ellie Kemper, Unbreakable Kimmy Schmidt
Julia Louis-Dreyfus, Veep
Laurie Metcalf, Getting On
Tracee Ellis Ross, Black-ish
Amy Schumer, Inside Amy Schumer
Lily Tomlin, Grace and Frankie
MEJOR ACTOR – MINISERIE O TV MOVIE
Bryan Cranston, All The Way
Benedict Cumberbatch, Sherlock
Idris Elba, Luther
Cuba Gooding Jr, The People v OJ Simpson
Tom Hiddleston, The Night Manager
Courtney B Vance, The People v OJ Simpson
MEJOR MINI SERIE
American Crime
Fargo
The Night Manager
The People v OJ Simpson
Roots
MEJOR REALITY
The Amazing Race
American Ninja Warrior
Dancing With the Stars
Project Runway
The Voice
Top Chef
MEJOR TV MOVIE
A Very Murray Christmas
All the Way
Confirmation
Luther
Sherlock: The Abominable Bride
MEJOR SERIE DE SKETCHS VARIADOS
Documentary Now!
Drunk History
Inside Amy Schumer
Key & Peele
Portlandia
Saturday Night Live
MEJOR ACTOR SECUNDARIO – COMEDIA
Louie Anderson, Baskets
Andre Braugher, Brooklyn Nine-Nine
Keegan-Michael Key, Key & Peele
Ty Burrell, Modern Family
Tituss Burgess, Unbreakable Kimmy Schmidt
Tony Hale, Veep
Matt Walsh, Veep
MEJOR ACTOR SECUNDARIO – DRAMA
Jonathan Banks, Better Call Saul
Ben Mendelsohn, Bloodline
Peter Dinklage, Game Of Thrones
Kit Harington, Game Of Thrones
Michael Kelly, House Of Cards
Jon Voight, Ray Donovan
MEJOR ACTRIZ – MINISERIE O TV MOVIE
Sarah Paulson, The People v OJ Simpson: American Crime Story
Audra McDonald, Lady Day at Emerson's Bar & Grill
Kerry Washington, Confirmation
Kirsten Dunst, Fargo
Lili Taylor, American Crime
Felicity Huffman, American Crime
MEJOR ACTOR SECUNDARIO – MINISERIE O TV MOVIE
Jesse Plemons, Fargo
Bokeem Woodbine, Fargo
Hugh Laurie, The Night Manager
Sterling K Brown, The People v OJ Simpson: American Crime Story
David Schwimmer, The People v OJ Simpson: American Crime Story
John Travolta, The People v OJ Simpson: American Crime Story
MEJOR ACTRIZ SECUNDARIA – COMEDIA
Niecy Nash, Getting On
Allison Janney, Mom
Kate McKinnon, Saturday Night Live
Judith Light, Transparent
Gaby Hoffmann, Transparent
Anna Chlumsky, Veep
MEJOR ACTRIZ SECUNDARIA – DRAMA
Maura Tierney, The Affair
Maggie Smith, Downton Abbey
Lena Headley, Game Of Thrones
Emilia Clarke, Game Of Thrones
Maisie Williams, Game Of Thrones
Constance Zimmer, UnREAL
MEJOR ACTRIZ SECUNDARIA – MINISERIE O TV MOVIE
Melissa Leo, All The Way
Regina King, American Crime
Sarah Paulson, American Horror Story: Hotel
Kathy Bates, American Horror Story: Hotel
Jean Smart, Fargo
Olivia Colman, The Night Manager
MEJOR ACTOR INVITADO – COMEDIA
Bob Newhart, The Big Bang Theory
Tracy Morgan, Saturday Night Live
Larry David, Saturday Night Live
Bradley Whitford, Transparent
Martin Mull, Veep
Peter Scolari, Girls
MEJOR ACTOR INVITADO – DRAMA
Max von Sydow, Game Of Thrones
Michael J Fox, The Good Wife
Reg E Cathey, House Of Cards
Mahershala Ali, House Of Cards
Paul Sparks, House Of Cards
Hank Azaria, Ray Donovan
MEJOR ACTRIZ INVITADA – COMEDIA
Laurie Metcalf, The Big Bang Theory
Christine Baranski, The Big Bang Theory
Tina Fey and Amy Poehler, Saturday Night Live
Melissa McCarthy, Saturday Night Live
Amy Schumer, Saturday Night Live
Melora Hardin, Transparent