I love musicals, I love Broadway, and I'm simply in love with Idina Menzel (who isn't?). And yes, there are many productions that have been transformed into movies, like Chicago, Annie and The Producers. But the one I love the most is, without a doubt: RENT.
Why is that? Well, RENT's not just another musical. In fact, I believe Jonathan Larson give us more than a rock musical based on Giacomo Puccini's opera La bohème. RENT, tells us the story of a group of friends, young artists and musicians, trying to survive in New York City, dealing with everyday problems and facing HIV/AIDS.
The story? RENT takes us through one year in the life of the characters. All this experiences filmed by Mark (one of the characters), in what seemed to be another boring year for them.  But, in fact, it turned out to be the most amazing year of their lives and a journey in which we accompany this group of friends through love, loss, AIDS, and life.
I'm sure you'll wanna see it for yourselves, so I better talk about the characters of this incredible production.
Mark Cohen (Anthony Rapp), the filmmaker and currently Roger's roommate. Maureen's ex boyfriend. The one who'll be in charge of filming a documentary with everything this group of friends will go through in the movie. And some also refer to him as the one who stays «forever alone» in this story, witness to the other's love stories.
Roger Davis (Adam Pascal), the musician and ex-junkie. He was once successful, but he kinda broke apart since he knew he is HIV positive. His only hope is to write one last song before he dies, but he's also tormented by the fact that his last girlfriend, April, killed herself after finding she was HIV positive too. He doesn't allow himself to love, but Mimi may make him change his mind.
Mimi Márquez (Rosario Dawson), the club dancer and currently drug addict. She lives in the same building as Roger and Mark. She's only 19 and, like every teenager, she lives like there's no tomorrow. She has a major crush on Roger and like him, she's HIV positive. She'll try everything to make Roger fall for her. She's also Benny's ex lover.
Tom Collins (Jesse L. Martin), the anarchist. He's a teacher dealing with AIDS. He's only dream is to open a restaurant in Santa Fe and stop dealing with NY's problems. He was once roommate with Roger and Mark. He meets Angel by coincidence on the streets after he's been robbed and becomes his lover.
Angel Dumott Schunard (Wilson Jermaine Heredia), the drag queen. He's a street percussionist with a beautiful soul and the ability to make everyone happy no matter what. He's the one who tries to keep this group together despite their differences. Just as his lover Collins, he deals with AIDS.
Maureen Johnson (Idina Menzel), the bisexual. She was once Mark's girlfriend and lived with him, Collins and Roger. Flirtatious and uninhibited, she's a street artist with the passion to fight for what she believes in. She loves to get everyone's attention and enjoys making protests to make her point. She's currently Joanne's girlfriend.
Joanne Jefferson (Tracie Thoms), the lawyer. She's a well educated woman and a well related lawyer. Despite the fact of being her opposite, she's currently Maureen's girlfriend.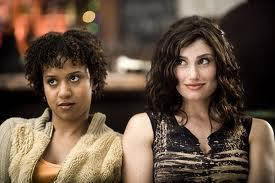 Benjamin "Benny" Coffin III (Taye Diggs), the landlord. He once shared the dreams of his friends Collins, Mark, Roger and Maureen but then got married to Alison Grey, from the Westport Grey's, a very wealthy family. He's considered by everyone a sell-out as he tries to evict everyone to become the building a studio. In the meantime, he'll try to «buy» Roger and Mark so they stop Maureen from protesting. He's Mimi's ex lover but he thinks if himself as her ex boyfriend.
As you can figure out, with New York as the scenery, this group of friends try to give us a very important message about love, life and dreams. Because, just as one of the songs title says: NO DAY BUT TODAY.
Hope you can enjoy this film as much as I do, and before I finish this, I'll leave my absolute favorite song from this musical.